I always wonder what happens to my prints etc., once I have sent them out to their new 'homes'. Have the new owners framed them – or have they – like me – 'not quite got around to it yet!' Occasionally I get sent a photo, and one such, is this photo of my print 'Nimrod' – which is my best-seller. Kat, from the USA, says " I think it looks fantastic! I just picked it up from the framers the other day so haven't hung it yet." Of course, that is another obstacle to cross – screwing or knocking a nail into the wall!
Another of my regular customers has sent me a photo of some of my prints which she has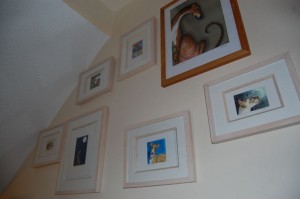 hanging on her stairway. This is only a small part of her collection. I like the way she has 'double-mounted' the smaller prints. You can see that 'Nimrod' has appeared again!
I received this email today-
I see on your website that you are interested in how your work has been framed. Here is a photo of our Ondine, which we love. Apologies for the window reflection – could not be avoided). I think the framer got it just right.
If you have bought a print or picture from me and are pleased with it in its new home please send me a photo and I will post it in my blog. You can post a reply on my blog and send a photo to my email address suzannelegood@tiscali.co.uk
Another customer recently sent me a photo of my Tonkinese print, Minka, framed.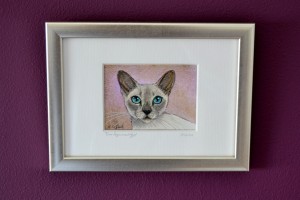 I think the colour of the frame sets the cat's colouring off perfectly.