I have just spent a great couple of hours in the early morning sun searching my local beach for sea glass. I found some lovely pieces. However, the gorgeous Cobalt blue pieces are usually too small to paint on.
In the Warren, at the base of the cliffs, between the railway track which runs between Folkestone and Dover, there is a densely wooded area, dark and mysterious, full of 'Old Man's Beard' creepers and Harts Tongue ferns. In my younger days, this was my 'Terabithia' *, where my friend and I used go after school, to build dens and discover new hideaways – which all had secret names. I remember collecting blackberries which my mum used to make her delicious blackberry and apple crumble.
Chalky paths wind through the dark woodland, occasionally opening into sunlit glades with views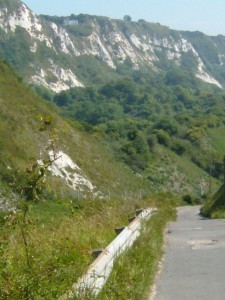 to the sea on one side, and the towering cliffs, with their circling gulls, on the other. After a short walk to the beach towards Folkestone, where the chalk cliffs turn to clay, we used to collect ammonite fossils which had tumbled down from the eroding clay cliffs onto the beach. These were sometimes covered in a thin but beautiful, Mother of Pearl layer. We loved to bathe in the sun-warmed sea-water pools in the rocks left by the ebbing tide. Those were the days!
* 'The Bridge to Terabithia' – film